How To Get Eyeshadow Out of Carpet? From spilt coffee to by mistake of dropping off food, the carpet takes a beating. One of the frequent items that hit carpets is powdered cosmetics. Isn't it? Designed to magnify your beauty, this product can make the contrast for carpets.
In the morning hurry, many times I too have dropped my eyeshadow compacts on the floor to dusty splatter powder-like, colourful gobs all over the bright carpet. Ladies, you need not worry at all because many times, we've all been there in this situation. There were many times when I sprinkled gorgeous lavender eyeshadow on bright carpets.
Undoubtedly eyeshadow helps enhance the beauty of a woman's eyes, but at the same time, it does very little to bring out the attractiveness of the carpet. Carpets look better when left in their natural state.
But how do you get eyeshadow off the carpet? At first, you may feel enticed to reach out and squeeze the flour using your fingertips. However, this can, in reality, break up clumps and deposit more dust on your valuable carpet. Additionally, the powder can only be pushed deep into the fibres of the carpet, turning it difficult to remove. Some eyeshadows are oil-based, which can make them even more difficult to remove from the carpet.
Add to that the presence of dyes and eyeshadow can give you a headache when the talk is about removing carpet stains. While it's still necessary to respond quickly to carpeted eyeshadow stains, pressed powder stains, like those left by eyeshadow, are more difficult than liquid stains. Luckily, despite the problems eyeshadow poses, it's entirely attainable to remove stubborn stains and bring your carpet back to its original state of beauty.
Things To Say "NO" If You Want to Remove Eyeshadow Out of Carpet
Do not make the powdery eyeshadow stain wet by applying soapy water over it before vacuuming the final piece.
Hold the temptation to squeeze powder using your fingertips. It's very attractive, but you shouldn't give in.
If you try to pick up the powder using your fingertips, some of it can get pushed into the carpet. Eye shadows are oil-based stains that contain dyes. When these oils and dyes seep deep into the carpet, they are very difficult to clean.
There's also a good chance the eyeshadow will spread to other parts of the carpet from that beautiful eyeshadow stain.
How To Remove Mascara From Carpet Without A Mess
If you want to remove mascara, soy sauce, chocolate out of carpet then you must soak the carpet before you dab the stain with soapy solution or something like soap and water.
Absorb as much of the spilt powdery eyeshadow as you can.
After that, you should start executing other cleanup strategies.
Eyeshadow smudges can be very difficult to deal with, but it's not impossible if you know about the right thing to be done and also the right method for that thing. And that's what this article is for.
Instantly dissolves eyeshadow stains. Waiting will give the stain time to set.
Also, removing old eyeshadow stains can be a little more difficult than removing new stains.
How To Remove Lipstick From Carpet
The first and foremost thing that you ought to do when an accident like this happens is to spoon or pick up the powder-like mess. Then give a try to any one of the below-mentioned methods of stain removal to take the lipstick out of carpet.
Make use of eye makeup remover (or you can also use nail polish remover).
Try using mild soap or dish soap.
Use solvent for dry cleaning.
Using ammonia (never use chlorine bleach) or 3% hydrogen peroxide can also help.
If all else fails, apply shaving cream to the affected area.
Make use of carpet shampoo.
Supplies You'll Need To Remove Makeup Stains From Carpet
Spray bottle.
Hydrogen peroxide.
Rubbing alcohol.
Baking powder.
Hair spray.
Rubber gloves.
A few clean white microfiber towels.
1. Using Eye Makeup or A Nail Polish Remover
Suppose you wish to follow this method. To get your carpet back to its original beautiful state after an eyeshadow spill, then you need to follow the steps mentioned below. Check them out to do the desire.
Vacuum The Excess Eyeshadow
Start vacuuming and sucking the powdered makeup out of carpet. But just vacuuming the spot with normal side-to-side sweeps and back-and-forth motions won't do the trick. Squeezing the vacuum like you would when cleaning a carpet can spread more dust. Or it can be shoved deep into its fibres, complicating bad situations.
The right method to truckle up powdery eyeshadow from the carpet is to spot the vacuum cleaner attachment straight onto the stain. Most vacuum cleaners come with a set of tools, counting the necessary four.
Grouting tools, extension rods, dusting brushes, and upholstery attachments. And the best attachment for picking up spilt eyeshadow powder is the pad tool.
What if I can't find the tools right away (these tools can misplace them!)? Many people don't use vacuum accessories anyway, so why bother? Place the vacuum directly over the stain and let it rest for 10-15 seconds. Now when you move the vacuum cleaner away and the carpet surprisingly will run out of eyeshadow powder.
What if there is no vacuum cleaner nearby or you do not possess one? Use a blunt object such as a butter knife, spoon, or credit card to snip off as much of the eyeshadow as possible. Place the collected powder into a small plate, cup, bowl, or another container.
Carefully Remove The Loose Powder With A Sponge
At this point, there is very minimal powder on the carpet. Then use a wet cloth or sponge to pick up any remaining spillage. You can continue blotting the affected area of the carpet, rinse the sponge well, and repeat the step to blot the dry area with a fresh microfiber cloth. .
Repeat this process until the carpet becomes stain free from all colours spilt over it.
Keep in Mind- This procedure does not completely remove stains, nor is it intended. Imagine you are prepping a problem area of ​​carpet for stain removal.
Mess With Eye Makeup Remover or Liquid Eyeliner
As mentioned earlier, water is not very effective at removing eyeshadow stains because it is waterproof. Eyeshadow stains are treated with eye makeup remover and other substances. Be careful when using any type of eye makeup remover, as it can stain carpets and damage linings. Fortunately, there is a way to prevent this scenario – spot checks.
Apply a little eye makeup remover to the affected area and see how it goes. Stain the carpet? If not, process the rest of the stained area. Of course, in this case, do not use remover on the carpet. Try a different eyeshadow smudge removal method. This resource lists at least seven useful eyeshadow cleaning methods, so you'll be spoiled for choice.
How To Remove Excess Stains Out of Carpet
Important things first: Do not apply eye makeup remover directly to the carpet.
Here's the surest way to do eye makeup with a rag smudged with eyeshadow powder.
Use a cloth dampened with the remover and start blotting the stain.
Rinse the stain colour off the fabric and blot the stain until it leaves no marks on your beautiful carpet or fabric.
Once you've dealt with the stain, deal with his eyeshadow remover itself.
Soak a sponge/cloth in cold water and wring out excess water to dampen it.
Next, take a clean, damp sponge, blot the area to be treated, and rinse off the eye makeup remover.
Do not leave remover residue there, as it can weaken or damage the carpet fibers.
Finally, dry the treated area with a dry cloth. Or use nail polish remover.
Follow the steps carefully and orderly to implement this idea successfully.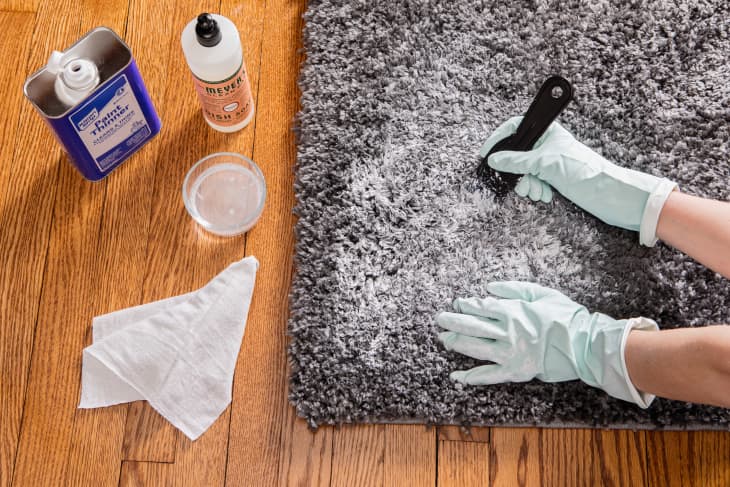 2. Using Mild Laundry Detergent or Small Amount of Dishwashing Liquid
If you don't wish to take the risk of ruining your carpet by making use of eye makeup remover, then you can try out the option of giving a try to non-bleach dish soap instead. Dish-washing liquids are great at treating oil stains on pans, pots, and dishes.
Also, it does not lose its special ability even when a clean eyeshadow is in use.
Method:
Prepare a cleaning solution by mixing one tablespoon of unbleached dish soap into Two cups of warm water.
Spray the soap solution on the stain and set it for 5-10 minutes for the abracadabra to form.
Apply just the right amount of diluted detergent to avoid oversaturating the stained area.
Also, do not use too much force when wiping off the cleaning product.
Soak a sponge or cloth in detergent. Rinse off the detergent residue on the carpet with clean water.
Do not spray water on the carpet. Instead, soak the cloth in water and squeeze out the extra water.
Dry the area using a dry cloth to avoid mildew.
How To Remove The Stain of Eyeshadow With Neutral Detergent?
Add five drops of mild detergent to a small bowl with 1 cup of cool, clean water.
Soak a white cloth in soapy water and squeeze out excess water.
Pat the mess until it vanishes. It may be necessary to rinse the cloth several times.
Stop when the color stains stand unnoticeable on the fabric.
Rinse the area with a cup of warm water using a clean microfiber cloth, damp sponge/cloth and wipe off any left-out water.
Dry the carpet with a dry cloth or vacuum it with a vacuum cleaner.
3. Use Professional Carpet Cleaning Agents
Another way to remove eyeshadow stains is by making use of a dry cleaning solvent that is carpet-friendly. You can use multi-purpose products like Prochem Power Solvent, which is a carpet-safe dry-cleaning solvent. An oil-based stain remover that helps remove eyeshadow. If you are unsure about how a particular solvent will affect your carpet, then you can choose to test the treatment on a small inconspicuous area.
Do not forget to wear gloves and then dip a clean cloth corner into the appropriate solvent.
Then dab until the powdery eyeshadow stain disappears. Solvents remove stains without spreading them.
Rinse the solvent well off using a damp cloth and clean the area as normal.
Do not forget to dry the treated area to keep mildew at bay.
4. Remove Eyeshadow Stains From The Carpet With Ammonia
There are a few caveats before trying this method.
Do not use ammonia when you have children or hairy children.
Do not use ammonia in any kind of chlorine bleach. Why?
The reaction of these two chemicals can produce potentially dangerous fumes.
Do not use ammonia in poorly ventilated areas.
How To Use Ammonia For Removing Stains of Your Powdery Eyeshadow Over The Carpet
Keep all the windows and doors have proper air circulation.
Measure and take 1 teaspoon of ammonia and pour it into a small container.
Pour 1/2 cup warm water into it to form the solution.
Soak a piece of sponge or cloth in the above-prepared ammonia solution.
Dab until the eyeshadow stain disappears.
It may be necessary to soak the sponge/clean with white cloth many times with the ammonia to have the best results.
Rinse off the ammonia solution well with a cloth dampened with water. You don't want to leave this on your carpet. Why? This is because ammonia can damage the carpet backing, stain the carpet, or both. Clean and dry the ammonia-treated area as usual. You can also opt to vacuum the area to dry. You can also turn on the dehumidifier to remove extra moisture from the room and speed up the drying process. Making use of a hair dryer is another good option for which you can give it a try. However, do not place the dryer nozzle very close to the carpet, especially if it is woven/knitted with synthetic fibres.
Note: These carpet drying strategies can (and should) be used with any of the other eyeshadow cleaning methods detailed in this article.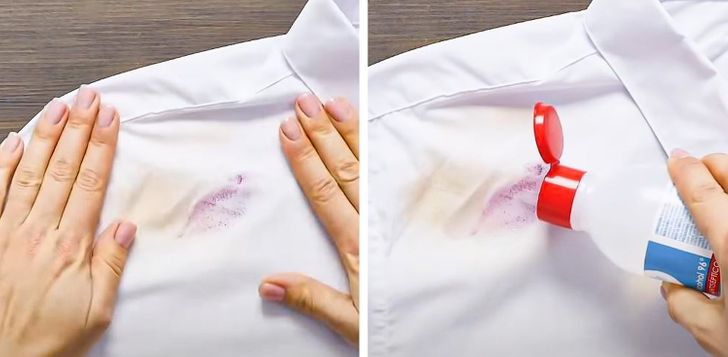 5. Use 3% Hydrogen Peroxide
Hydrogen peroxide is a powerful disinfectant and is used by many laundry enthusiasts to disinfect their washing machines. Additionally, hydrogen peroxide has soft bleaching properties. When used to take out eyeshadow from the carpet, not only does it make stains more stubborn, but it also makes white carpet whiter and colored carpet lighter. And has hydrogen peroxide turned out to be an essential part of every first aid kit? It's also included in hair bleach and has found its use in wastewater treatment. And on the other side, this beneficial chemical treat acne well!
Note- Hydrogen peroxide hates wool and silk carpets and loves to damage them! We do not recommend using this stain remover/bleach on any dark carpet.
How To Make Use Of Hydrogen Peroxide To Remove Eyeshadow Stains From Carpet:
Pour 2 cups of warm water into a spray bottle.
Add one teaspoon of 3% hydrogen peroxide and shake the contents.
3% peroxide is the one commonly recommended for domestic use.
Spray a liberal amount of this stain remover onto the stained area.
Leave the stain remover chemical on the stain for about 10 minutes to have an effective result.
Soak up peroxide and dirt with a damp cloth. If you need to reapply peroxide, do so. Don't stop until the mess is gone.
Rinse off the peroxide well and dry the dirt.
6. Shaving Cream Does More Than Just Prepare Your Skin
Decent shaving cream will make the task of shaving your face much easier, smoother, and more comfortable. Who knew you could use good old shaving cream to remove unsightly eyeshadow stains from your carpet? Never use shaving cream to remove blemishes, not to mention the carpet. But I know full well that this cream will turn over stubborn carpet stains, including eyeshadow, in no time.
How To Use Shaving Cream To Keep Eyeshadow On The Carpet:
Apply shaving cream to problem areas and leave it on for 30 minutes.
Wipe off the cream and the stain, too, of course, with a damp, clean cloth.
Wash off the cream well and dry the area to prevent mould from forming.
7. Use Carpet Shampoo (For Deeply Ingrained Carpet Stains)
If you own a big house, it makes true sense to invest in effective good carpet shampoo. If this idea doesn't suit you and stands ok for your cleaning needs, you can always and easily find one at your local grocery or hardware store. You can rent it. Carpet shampoo is a great way to deep clean your carpet. It goes deep into the carpet and sweeps out all the dirt and dust. Most necessarily, the extractor works to remove dirt and restores the rug to that natural look we love.
First, vacuum the carpet as usual. Of course, pay special attention to dirty areas.
Start with the actual affected area.
Then set up your shampoo/rag vacuum and get to work.
See now how the machine works on it and check where to add the cleaner and water.
Luckily, the rental aspirator also comes with an instruction manual.
If you don't know how to shampoo your carpet to remove new stains and old makeup stains, ask a cleaning professional. I hate paying high bills, so I clean everything in the house myself, but to each one myself. You can mix mix one tablespoon of carpet shampooer with white vinegar for best results.
Few Quick Pro Tips For Removing Eyeshadow Smudges
Learn how to tackle eyeshadow stains from your carpet, so you don't have to resort to harsh toxic or solvent carpet cleaners. You probably can get the needs done by using a few household clips on hand, but before you dive in, there are a few tips and caveats you should know. These tips will be of great help at the time you are learning about how to remove eyeshadow stains from carpets and other fabrics too.
For best results, treat stains immediately.
Read out the care instructions before using any stain remover, natural or not.
Test your chosen stain remover in a secluded area to ensure color fastness.
Lightly dab makeup stains. Do not rub or scrub. Eyeshadow powder can penetrate deep into the fibres of the carpet.
Work from the outside to the centre of the stain to prevent the spreading.
Do not use paper towels or colored cloths to blot up dirt. You can get the color of the fabric transferred to the carpet.
After removing makeup stains, use a vacuum cleaner to soften the fibers. Wait until the carpet is dry.
FAQs Related To Living Area Carpet Care and Cleaning Tips
Why Is It A Bad Idea To Wet The Stain First?
Using water on the stain at the beginning of the cleaning process is not recommended. Why? That's because eyeshadow is an oil-based beauty product with moderate water repellency.
Is It Possible To Take Spilled Eyeshadow Out Of a Carpet?
Yes, it does! Eyeshadow does pop out of carpets; however, it is now no longer usually easy. Removing pink or black eyeshadow from the carpet is the same as removing any other color. You can make use of nail polish remover/makeup remover, dry cleaning solvent, or other items that are listed in the above article.
How To Quickly Remove Eyeshadow From The Carpet?
First, vacuum any powdery stains, or at least use a butter knife, spoon, or other blunt tools to remove most stains from the carpet. Then make use of mild soap, eye makeup remover, ammonia, bleach-free dish soap, shaving cream, chemical carpet-safe cleaning solvents, or hydrogen peroxide to remove stains.
Finally, rinse off the solvent and pat the area dry. If you are unsure how a particular product will perform after being applied to your carpet, do a spot test.
What Are The Best Ways To Remove Makeup From Carpet?
Removes old, stubborn eyeshadow stains as well as new stains. Absorb dirt, blot the stain with a damp cloth, and in the end, treat the affected area with an efficient, safe, and effective commercial or even homemade stain remover.
Which Is The Best Liquid Foundation Stain Remover?
If you need a little more power to remove stains, add baking soda to dish soap, and white vinegar, lukewarm water. Mix the ingredients well in a spray bottle, and you're good to proceed. Alternatively, mix a few drops of excess foundation stain remover by mixing salt, lavender essential oil, and white vinegar to remove stains and deodorize. You can watch video tutorials on websites like YouTube to get a step by step guide to remove foundation out of carpet.
Does Salt Help In Removing The Stains From Carpets?
Salt is best used before the stain hardens. Get a heaping pile of salt from the kitchen. Pour it completely over the stain (the more salt you use, the better result you will glance at). Wait 10-15 minutes for the salt to absorb the liquid. Baking soda, vinegar, and salt are some most common household products that can efficiently be used as carpet cleaners.
How Long Can Hydrogen Peroxide Be Left on The Carpet?
Apply the 3% hydrogen peroxide solution to the carpet or rug and scrub using a brush. The solution should be allowed to stay for 30 minutes before rinsing the well with water. Concentrations of hydrogen peroxide above 6% increase the chances of fading carpet dyes. The hydrogen peroxide solution commonly used at home is diluted to 3%. However, depending on the dye, the solution may fade the carpet.
What's The Best Way To Clean The Carpet?
Baking soda won't cause any damage to your carpet, but it can damage underlays and floors. Vacuuming the baking soda off the carpet afterwards can also be very difficult. These are some of the easiest, non-toxic solutions to cleaning carpets naturally in terms of the ingredients used:
Water + vinegar + salt.
Baking soda + vinegar + water.
salt + borax + vinegar.
Baking powder + potato starch + cornflour + borax.
Summing It Up
Removing eyeshadow from a carpet is not the easiest task in the cleaning world today. But with the correct cleaning equipment, supplies, cleaning techniques, and a little muscle, it can be done. It's decision time! Want to go further down the research rabbit hole? No. You already want to clean up and remove the depressing eyeshadow mess from your expensive thick pile of rugs.
We hope our article to remove eyeshadow stains from your carpet gives you the results you want, but if you're still seeing eyeshadow stains after following these methods, we recommend calling in professional help for carpet cleaning. Whatever your cleaning process needs, let Domestic Helps make your life simpler. Get a free online quote for our top home cleaning services today and discover the difference you can make in your house.